Water as a commons has a long tradition in Europe at the communal level, and has a number of very useful lessons, such as the co-existence of rights, uses, and duties (maintenance of infrastructure). The democratic process that underpins this model, involving all stakeholders in the arrangements, is also a fundamental step in sharing water equitably – and sustainably, if future generations of the community are taken into account.
The SHARING WATER workshop "Commons & Co-Creation", which took place on 6 December 2022 at the Volkskundemuseum Wien, explored this approach and expanded the concept of co-creation to include non-human actors. Together we explored the question of what a common design of the conditions of sharing, a contemporary co-creation, must include today.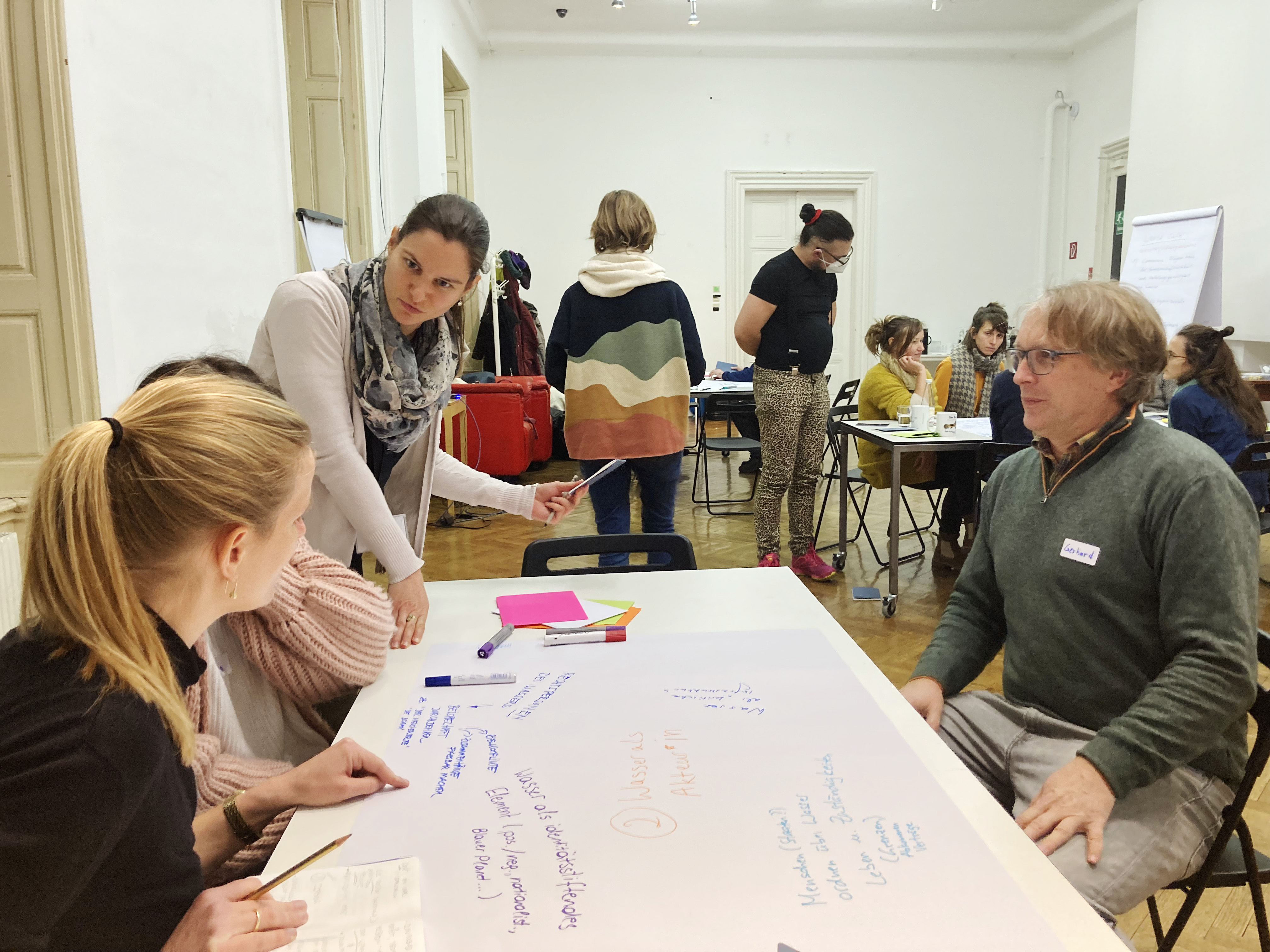 Workshop Participants
Organised by the Volkskundemuseum and One Body of Water, scientists from European ethnology and history as well as natural scientists from the University of Natural Resources and Applied Life Sciences Vienna were invited to the workshop. In addition, exhibition makers and exhibition mediators from Austrian museums currently working on the topic of water (Technisches Museum Wien, Gay Museum Wien, Salzburg Museum) were also present.
After an impulse lecture by Ass.Prof.Konrad Kuhn, Institute for European Ethnology, University of Innsbruck, the three focal points were explored together: commons, water as an actor, and public relations and awareness-raising formats on Sharing Water. The ideas and questions from the workshop will flow into the content of the SHARING WATER "Innovation Hub" and Open Day in spring 2023.
The highly exciting introduction to the discussions of the workshop on 6 December 2022 by Konrad Kuhn's keynote speech is reproduced below (free choice of words, no quotation):
Impulse by Konrad Kuhn, European Ethnology, University of Innsbruck
Living in urban areas in Central Europe, water is taken for granted – it is what we can safely drink, what flows when we flush the toilet. It is made predominantly invisible in urban/communal space and yet it is always available. It attracts attention when there is "too much" or when there is "too little" of it.
We know water mainly in its "tamed state", serving people and their infrastructure. Through the dualistic aspect of the human view as a "land-centred being", water has also always been the "other", the wild, the abysmal, the realm of liminality and transformation.
With the newer approaches of a "symmetrical anthropology" leaving behind the postcolonial and anthropocentric worldview, there are strong shifts in the perception of water. Common demarcations and categories are called into question: e.g. the demarcation between water and land or the one between dry and wet. Areas and conditions are perceived in a new way that have enormous significance for life/as a habitat, e.g. the ecotone as a transitional area between water and land or the condition of "wetness" as an analytical category, e.g. in the form of soil moisture.
Water also becomes visible as an actor, it shapes landscape, gathers things and living beings, people, collectives, it co-produces social worlds. It is a co-production within the framework of a network involving human – and more-than-human – agents.
Giving this equal actor of knowledge generation and world shaping its own rights is thus, on a legal level, an expression of this new form of perception that counters the destructive impact of legislations from the previous anthropocentric world view. It is a promising approach to reshaping legislation that puts a stop to the overexploitation of resources and the destruction of habitats.
Event preview
The legal status approach for water bodies and ecosystems will be the topic of the next SHARING WATER workshop on 17 February 2023 at the Natural History Museum Vienna.